Driven For Success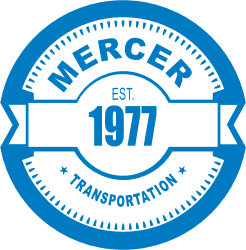 We Are Mercer Transportation
Since 1977, we've shipped freight across North America with an emphasis on quality service and on-time delivery. Trusted by the DoD and Fortune 500 customers from coast to coast, yet nimble enough to meet the needs of the smallest of businesses. Mercer Transportation has become one of the largest flatbed, heavy specialized, and dry van carriers in the nation, and the success of our owner-operators proves it!
Locations Served
As an Irregular Route carrier, we serve all points in North America. From Mexico to Alaska, California to Newfoundland, Mercer Transportation has the capability to meet your needs.
Learn More

Owner-Operators Leased

With over 2200 owner-operators and an array of trailer types, we have the equipment to meet your needs.

Loads Delivered Annually

Over 3100 customers served provide plenty of freight opportunities to our owner operators.

On time performance

With over 450 owner operators logging 1 million safe miles in our fleet, it's no wonder we're known as one of the most reliable, safest companies on the road.
The Mercer Mission
A Focus on Safety
With over 450 owner-operators that have logged 1 million, 2 million, or even 3 million accident free miles with Mercer, we pride ourselves in helping keep America's highways safe. Our safety and service practices has landed Mercer multiple quality service and safety awards over the years. When the focus is on safety, the service of our professional owner-operators and staff naturally shines through.
The Mercer Mission
Successful Owner-Operators
At Mercer we value owner-operators and are committed to their success. That's why for over 40 years we have never owned company equipment to compete with our owner-operators for freight. Our commitment to our owner-operators has earned Mercer the title of "THE owner-operator company". From fleet discounts on fuel and tires to our fast pay program, Mercer is in the business of helping our owner-operators find their version of success when they're out there on the road.
Join the fleet
The Mercer Mission
serving people
Moving over 250,000 loads per year with a 98.5% on time pickup and delivery performance record, Mercer boasts over 3100 satisfied customers. We put a focus on people, safety and service – all of which are needed to be one of the best service carriers in the industry today. At Mercer there's more to it than just hauling freight, it's about serving people.
Client Testimonials
one of the best owner-operator companies I have ever seen. love being leased on to Mercer.

Cindy – Norwich CT
We rely on Mercer to handle all of our flatbed trucking needs. They make sure that our product gets there on time and damage free

JR – Operations Supervisor
made me feel like family the day I drove onto the terminal lot

Bryan- Ogden UT
Our customers demand a high level of service, Mercer's owner-operators, have risen to this challenge with every shipment.

Wendy – Shipping Mgr.
Mercer Is Right
The Right People
Our strength is our people. At the core of Mercer's success is our relationship with our employees, our owner-operators and our independent agents. Honesty and integrity are paramount. Our company culture at the home office – affectionately referred to as Mercertown – is closer to a family than a corporation. Our staff is friendly, helpful and experienced in the industry. We are committed to forge relationships with the right Shippers, owner-operators, qualified carriers, and independent agents.
Mercer is Right
The right equipment
Mercer's diversity in equipment allows you to move anything from Over Sized machinery to retail merchandise and everything in between.  We offer Flatbed, Conestoga, Step Deck and Double Drop and RGN open deck trailers and 53' air ride Van trailers. Whatever needs you have to move your freight, Mercer has the right equipment to get it done safely and on time.
mercer is right
The right way
At Mercer Transportation we take pride in doing things the right way. We adhere to strict safety policies and procedures to help keep America's highways safe. We don't cut corners, we don't compromise our principles when it comes to service and safety. We have an award winning Safety Department because we have award winning owner-operators that get the job done safely and on time. At Mercer we understand that if it's worth doing, it's worth doing right.