Logan Miller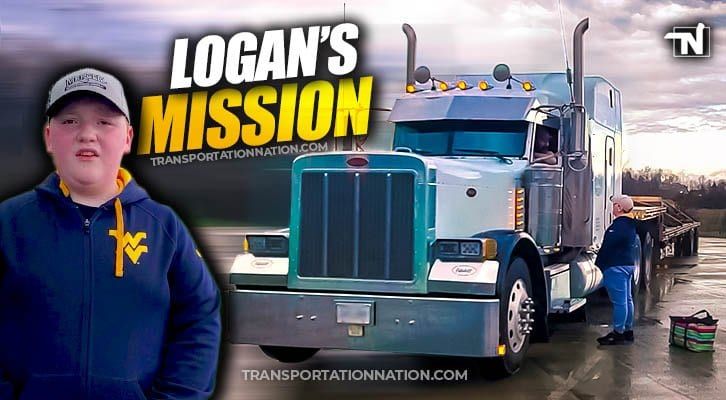 Logan, who proudly declares himself Jr. CEO of his dad's single-truck company, Chapter 2 Freight LLC., leased to Louisville, KY-based Mercer Transportation, overheard a conversation between his parents after his dad left on a trip this week.
As America began to feel the effects of the National Emergency declared by President Donald Trump on March 13th , Logan was deeply affected when he heard his dad say he went to bed hungry after not being able to find a meal while over the road.
Logan's dad, Jason Miller, recalled the conversation as he spoke with Transportation Nation Network (TNN) Friday evening. Miller said he had just driven 500 miles and was struggling to find a place to eat amid the COVID-19 closures. "I had a can of Vienna sausages, some crackers, a juice and went to bed hungry," Miller told TNN.
Logan, heartbroken that any trucker — much less his own father — was struggling to find a meal on the road, decided to take matters into his own hands. "I live right on the border of West Virginia and Pennsylvania, and we like to eat at the Huddle House," Logan told TNN. "It closed down because of the coronavirus, and since they closed down, I've seen truckers make parking spots alongside the highway. It made me really mad and sad."
So, he gathered $50 of allowance he had saved and called his dad asking for a favor. "He asked if he could have a $50 advance on his allowance," Miller laughed. Logan explained to his dad that he wanted to help feed hungry truckers and he planned to take the money — $100 total — to buy food to hand out to truckers at a nearby truck stop.
With his parents' blessing and a pocketful of allowance, Logan and his mom, Melissa, headed off to the grocery store where they stocked up on peanut butter and jelly sandwiches, chips, Slim Jim's, crackers, fresh fruit, and lots of bottled water.
After assembling fifty care packages, on Friday, Logan and his mom loaded up and headed to the West Virginia Welcome Center off I-79.
It was there Logan met trucker Joseph Graham, of Terra Alta, WV, who was an hour and fifteen minutes away from home but forced to stop for a 30-minute break, and not at all happy about it. After a "horrible" week where finding a hot meal was "like pulling teeth," Graham said he was "mad at the world" when he saw Logan out of the corner of his eye approaching his truck.
"I rolled my window down and everything changed," Graham said. "Me and my mom made bagged lunches for you guys because we appreciate you. Would you like one?" Logan asked. Graham said everything was suddenly put into perspective. "When you see a 13-year-old boy take that amount of time to want to help, it's very humbling. I couldn't help myself, first thing I thought is I got to get a video."
Graham is a professional videographer and owner of the popular trucker video site, Hillbilly Express Media (HBX), so he grabbed the closest camera he could quickly get his hands on — his camera phone — and asked Melissa's permission to live-stream Logan's message on social media to share with his followers.
"It left such an impact on me," Graham commented, and thought other truckers could use the encouragement after a difficult week. The video began spreading like wildfire, racking up over 100,000 views in only five hours. Click Here to Watch Video of Logan at WV Rest Area
Miller was sitting in his truck in Oklahoma City, OK, when he saw his son's video on HBX's Facebook page. He told TNN he's proud of Logan and hopes the experience of lending a helping hand to his trucker heroes will ease the disappointment over the cancellation of the Mid-America Trucking Show (MATS), which was announced earlier this month. "It's the one time I let him miss school and he's been really devastated to miss all the fun," Miller dejectedly said.
However, it seems as though Logan will have something to keep him busy in place of MATS this year: a fundraiser set up by Graham shortly after the video went viral has already raked in over $500, so Logan can continue to spread goodwill to truckers at the I-79 southbound rest area. Check out Logan stocking up for another day of "doin' good"!
"I want to spend it on truckers because they need motivation and they need food," Logan declared. "Even though the truck stops are still open and offering food, [truckers] might stop at a rest area and they only have vending machines and bathrooms."
Everyone here at Mercer is so inspired by this young man and the unselfish giving of his time (and allowance). In times of great need like today, we think Logan displays all the traits and characteristics that make trucking great and he makes us proud to be a part of this community. To Show Logan our thanks, we also surprised him with a $500 check to help him keep up the good work, sent him all kinds of Mercer swag, and made him an honorary Mercer Mentor.
And it didn't stop there! On March 24th, Brian Helton, Mercer Marketing Manager, was on Red Eye Radio with Logan and his Dad, Jason. Click Here to Listen to Logan on the Red Eye Radio Show
NBC News also picked up the story and had Logan on their morning show on 3/24 and President Trump featured Logan's video in his Facebook post on March 24th!
Logan Miller lives by one motto: "America would stop – the world would stop – if we did not have truck drivers."
Great Job Logan!