The Sigwald Dream Machine at Mercer Transportation's MATS Booth
Peggy and "Waldo" Sigwald are owner operators here at Mercer Transportation with an appreciation for show-stopping trucks. Their 2020 Kenworth W900 with a custom blue wrap and a 156- inch ARI sleeper made its first show appearance this year at MATS 2022. This Kenworth was purchased back in January of 2021, but the Sigwald story goes back a few decades further. Waldo has been trucking for 43 years, and Peggy got her CDL in 2012.
Waldo spent his early 20's in the moving and storage business in Colorado. After that, Waldo transitioned to dry box van freight in the southeast. "I bought an old cab over Kenworth to start out with," Waldo recalls, "That was the first time buying my own equipment. I think I only paid about $15,000 for the truck. I kept it about a year and made enough money to put down on a brand new 359 Peterbilt."
Waldo leased his new Peterbilt on to a company in Columbus, GA called Burnham Van Service. That's where Waldo met a girl named Peggy, who worked at the home office. After Burnham Van Service went out of business, Peggy had a couple of different jobs. She had a daughter from a previous marriage, and after getting married to Waldo, the couple had two sons. Juggling her professional life with raising the kids, Peggy never really considered the trucking lifestyle for herself until their youngest kid was grown.
Family Ties and Mercer Transportation Waldo signed on with Mercer at the end of 1996. Before that, Waldo's trucking company in Georgia had him carrying Mercer back hauls. A couple of Waldo's coworkers had already left and found greener pastures with Mercer. Peggy's family is from the Frankfort, KY area, and so working out of Kentucky also got them closer to family. The couple still lives in Conyers, GA today.
When Peggy came aboard with Mercer in 2012, Waldo observed that the Mercer orientation hadn't changed much over the decades, apart from the new computer stuff like Qualcomm, which Waldo found a lot easier than paper logs. Peggy really appreciates the Quick Pay system. "It's like the cat's meow!" she said, "Before with other companies, I would have to wait till Waldo's check settled and then I'd have to take the check to the bank. So sometimes it would be 5 days to a week before we would get our money." About 3 or 4 years ago, the Sigwalds signed up for sensitive freight, and Peggy said, "The specialized satellite freight…that has made a world of difference with us."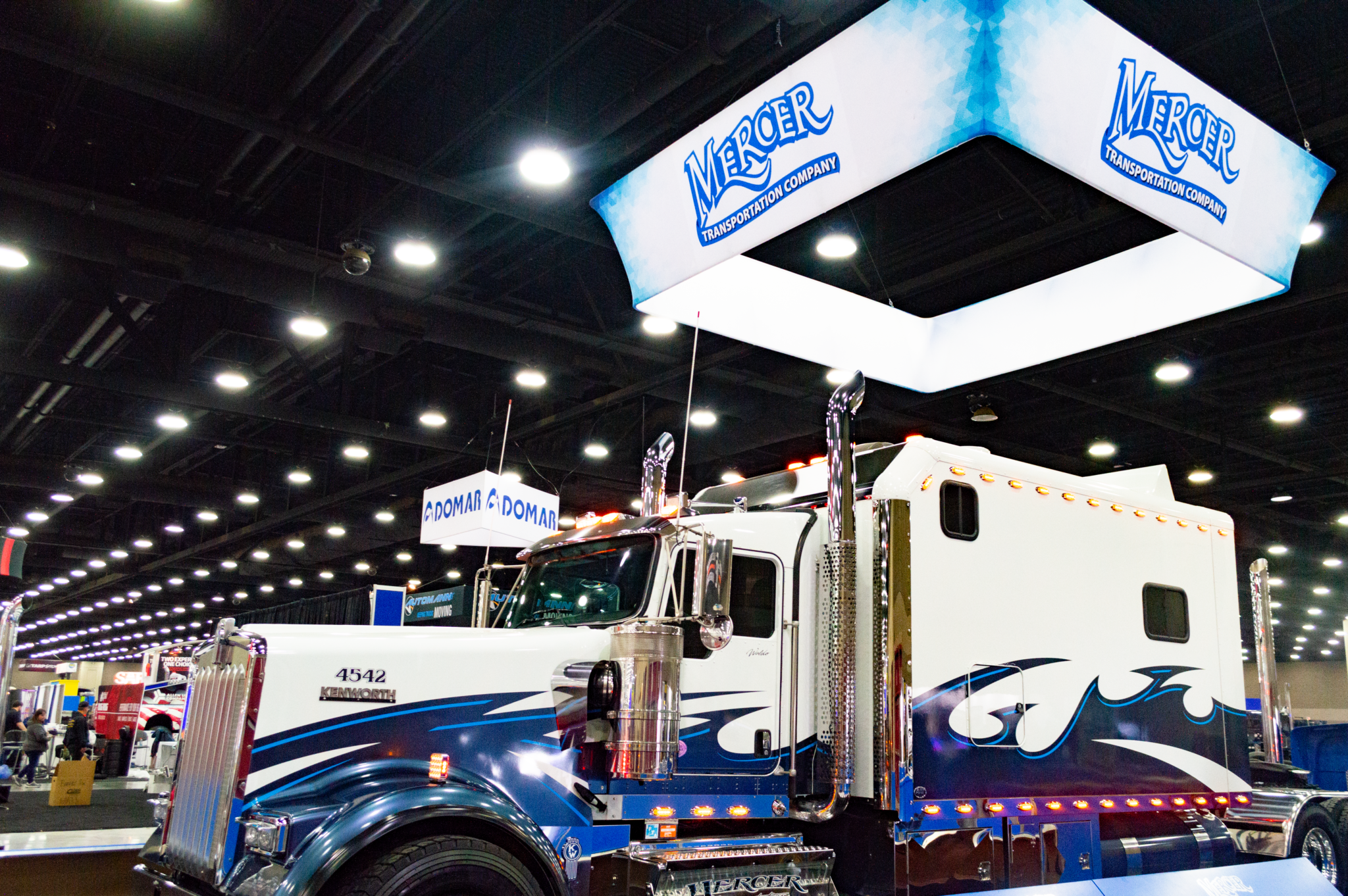 Getting a little older than they used to be, Peggy and Waldo try to avoid tarped loads. They usually run I-40 and below, particularly in the southeast. "But we love Montana," Waldo added. Finding healthy, affordable food at restaurants has always been a challenge, but it got a lot harder with the pandemic shutdowns. After Peggy's gallbladder surgery, they couldn't roll the dice with fast food. Eating during the pandemic became a major motivation for buying a newer, bigger truck.
Budgeting for a Bigger, Better Truck The Sigwalds' last truck was a blue 389 Peterbilt. For years, friends had been telling them to get a big sleeper truck, and their laughing response was, "Well, we don't need big sleeper payments!" Eventually, mechanical issues made it impossible to idle the Peterbilt and run the A/C for mealtimes. Nobody likes that kind of "hot" lunch. During the pandemic, not being able to eat inside restaurants was the last straw that motivated Peggy and Waldo to upgrade. They ran the numbers and decided they could save $100 a day by carrying all their own food and snacks on board, putting those savings into a new truck.
Their new Kenworth W900 has an ARI sleeper and a blue wrap done by Thunder Graphics in Joplin, MO. Inside, the amenities include a big screen TV, a toilet, a shower, a convection microwave, a full-size fridge, full size bed, sink, and a cooktop. The laminate flooring has a hardwood design, and Peggy has little signs hanging on the cabinets to give it her personal touch. The side door entrance makes it easier to carry groceries in. It's hard to overstate the importance of those conveniences when you live out of your truck—especially travelling with your own bathroom. "Now I can pull off in a parking lot somewhere, and I don't even have to get out of the truck," Peggy said, "That's been the most wonderful thing, for safety reasons, time savings and especially with me having my stomach issues since surgery."
Peggy's mother and sisters are in Kentucky, but the kids have all found careers in Georgia. Their daughter Vallen is married and living in Powder Springs, GA. Their oldest son, Tyler, had been living in Baton Rouge, but he's in the process of moving back to Atlanta. Logan, their youngest, is married with a son of his own in Acworth, GA. "We hope we can retire in a couple years, because I told Waldo, by the time our little one's toddling around and he begins to realize who we really are, I don't want to be out here full time," Peggy said, "I don't see us ever really 'quitting quitting,' I just see us taking longer breaks."
With a truck that comfortable, the Sigwalds can enjoy their time working as well as visiting family. Thank you both for your years of exceptional service, helping us all succeed at Mercer. If you're interested in learning more about our other drivers or Mercer Transportation the company, head on over to our Youtube www.youtube.com/channel/UCuIrBWlWI19H2WGhsoznxiA and subscribe to stay updated with everything Mercer related.