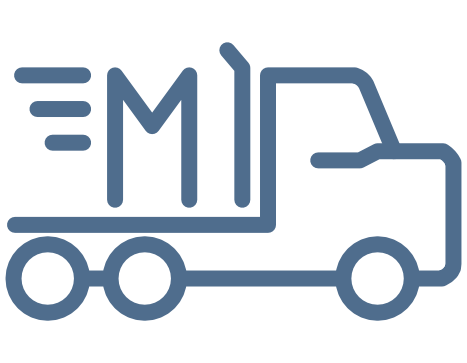 Freight Solutions
Moving One More Load Safely
Mercer Transportation is a solutions-based trucking company. We offer over 1500 Open Deck and over 850 53' Van Trailers across North America. Our Owner Operator – Independent Agent model brings you customizable solutions to meet your ever-changing needs. Backed by a team of over 300 transportation professionals at our Louisville Headquarters, we are Driven For Success.
Why Choose Mercer For Your Freight Solutions?
Since 1977 Mercer Transportation our success has been driven by building relationships and serving our clients.
250,000 +

Shipments moved safely each year.

3100 +

Clients of all sizes served

100 +

Local Independent Agents
Best safety record in the industry
Professional, experienced Independent Contractors
Consistent on-time delivery
Worry-free corporate and small business solutions
Contact us
Areas of Operation
We're Everywhere You Need Your Freight To Be.
As an Irregular Route carrier, we serve all points in North America. From Mexico to Alaska, California to Newfoundland, Mercer Transportation has the capability to meet your needs.
Commercial Freight
Recognized as one of the North America's 100 Largest Trucking Companies, success is driven by our diversity.  From HVAC, Metals and Machinery to Energy Bars and Shoes, Mercer Transportation delivers success for our clients.   Our diversity in equipment allows our clients to utilize our service for their complete supply chain.
get a rate quote
Military Freight
When duty calls, our Owner Operators answer with pride.  We are recognized as one of the largest carriers for the Department of Defense and its Contractors.  They understand the importance of Safety, Security and Reliability. Our Government Team has the expertise that will allow you to execute your mission.
Freight Management
Through our logistics division, Mercer Total Services, we offer solutions tailored for your business.  We recognize your focus needs to be on your making quality products, let us handle your transportation and logistics functions.  From Requests for Pricing and carrier execution to customized reports based on your metrics, we allow you to focus on your business and leave the logistics to us. Contact us to learn more about Mercer Total Services.
get in touch
The Equipment to Meet Your Needs
Mercer's diversity in equipment types allows you to move anything from Over Sized machinery to retail merchandise and everything in between.  We offer Flatbed, Conestoga, Step Deck and Double Drop and RGN open deck trailers and 53' air ride Van trailers.
view equipment types
What Our Clients Say
Our customers demand a high level of service, Mercer's Owner Operators, have risen to this challenge with every shipment.

Wendy – Shipping Mgr.
We rely on Mercer to handle all of our flatbed trucking needs. They make sure that our product gets there on time and damage free

JR – Operations Supervisor
Local Contacts, Consistent delivery, and Accurate billing, makes my job easier, and keeps my customers happy. Mercer is who I rely on to help me be successful.

Bill – Sales Manager
Freight Solutions FAQ
Transportation and logistics solutions for freight can get complicated and we welcome you to call us with any special needs or questions. Below are just a few quick replies to some of our more commonly asked questions.
Can I track my own shipments?

Yes – Your local agent or Regional Sales Manager can get you set up on MercerTrac, allowing you access to your shipments 24hrs a day and in real time. OR we can provide API's for location status to your TMS.

Is Mercer EDI Capable?

Yes, if there is sufficient volume, we can connect via Van or AS/2 Connection.  We do require 204, 990, 214 and 210 connectivity.  Depending on programming and testing required, there may be a fee to establish a connection.

What areas do you serve?

As an irregular route carrier, we serve North America.  From Mexico to Alaska and California to Newfound Land, we are not tied to specific lanes, but able to offer varied solutions.
Request a Quote